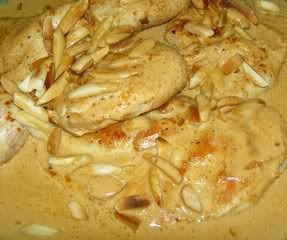 This recipe is a staple at my house. The key to it is to really pound that chicken thin, use a good grade of paprika (I add about 3 teaspoons instead of what the recipe calls for), and to serve it hot. I would suggest starting your other dishes first, so that everything will be ready and hot at the same time.
*****************************
INGREDIENTS
4 boneless skinless breasts (trimmed and pounded with meat mallet or
rolling pin between wax paper or foil sheets to 1/2 inch thickness)
1/4 tsp salt
1/4 cup sliced or slivered almonds with skins
2 tsp butter or margarine
1/2 cup dry white wine
3/4 cup heavy cream (or half&half)
2 tsp paprika, preferably Hungarian
1. Cut fat from chicken, lay flat on wax paper or non-stick foil on counter and pound out chicken breasts (use a rolling pin if you don't have a mallet) and salt them on both sides
2. Stir nuts on frying pan (don't leave the stove as this doesn't take
long!) at medium heat until fragrant and toasted
3. Remove nuts and set aside
4. Heat butter in same skillet until bubbly, add chicken and cook about 10
minutes or until almost opaque in center and golden on both sides.
5. Remove to serving platter (no paper towel under them!). Pour nuts on top of chicken.
6. Add wine to skillet, cooking over high heat!, stirring any browned bits
left on pan – until reduced to about 2 tblsp. Remove from heat while you gather paprika and cream together.
7. Stir paprika into wine mixture that is left, slowly adding cream and
stirring until thoroughly mixed. Return to high heat over stove.
8. Continue stirring and cooking over high-high heat until mixture is the
consistency of heavy cream (constantly stirring to keep from burning)
Remove pan from stove, pour creamy paprika mixture over chicken and nuts on serving platter, sprinkle nuts on top.
Serves 4
Compliments of RecipeLand.com