Whisker Woes
I'm really missing Minga… so I thought I would share a cute photo of her from before we moved out of our house. She was helping me grade papers. Ever so thoughtful of her! Cats are so smart. As my daughter always says, "Cats rule and dogs drool." No offense to you dog-lover types out there. I think dogs are cute, but WAY too much work. Cats are so much more like people – each with his/her own personality.
Famous Cats
My favorite scene in Stewart Little 2 is where Snowbell is trying to convince Stewart to give up on his search for the birdie. Stewart's little red car breaks down and smoke billows out of the front hood. Snowbell surveys the damage and says, "Oh, boy. This is a sign, Stewart. Like the burning bush. Except it's a carburetor and I'm not Moses… but it's tellin' us somethin'!…. Let your people go!"
Stewart the mouse ignores Snowbell's speech and retorts, "I'm not giving up."
"Oh, why not?", Pleads Snowbell, "Giving up is fun! And look at all the time you save! I'm telling you Stewart… if more people gave up, there'd be fewer wars."
Seems like something a cat would say if they could talk (other than "Hand over the tuna and no-body gets hurt").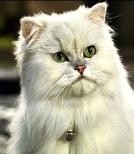 Snowbell from the Movie "Stewart Little 2"