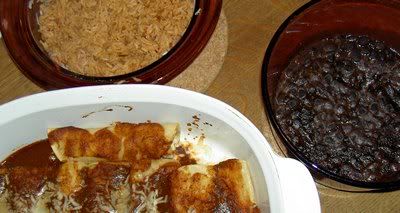 This is my altered recipe that was originally given to me by a friend named Fallon. She's married to a Mexican man and shared her trade secrets with me about how they make cheese enchiladas. I adapted the recipe to fit our family's tastes.
When we don't feel like eating meat, this is usually the thing I want to make.
My husband really likes the Pappasitos (a restaurant chain in TX) enchiladas better (because they are dripping with processed Velveeta cheese). I refuse to make them out of that since it is awful for you (ok, every now and then we might sneak some Velveeta in) but he says he likes this recipe a lot also. He is known for judging his Mexican restaurants by their enchiladas, so I take that as a compliment (he's a picky enchilada-man!).
I really love these enchiladas.
I hope you'll let me know if you try them and like them!
Be sure to stop in and leave a comment in my comments section.

NOTE TO CHEF:
Please start this recipe with the enchilada SAUCE!
You will want it to simmer while you fry the tortillas. It is a two-part recipe. The sauce recipe came from the internet. My daughter looked it up for me (she's only 7!) and wrote it down and brought it to the kitchen. We tried it and liked it… and have made it many times since. Whoever came up with it,
THANKS!
If you are only making 10-12 enchiladas, you might save half of the sauce for the next time in a jar in the fridge.
That is what we do. It makes enough for two meals for us.
INGREDIENTS FOR SAUCE:
2 tblsp Oil (we use corn or vegetable)
2 tblsp all purpose flour (a bit more if you like it thicker)
2 tblsp chili powder (YES, I do mean TABLESPOONS)
1/2 tsp ground cumin (This part is the TEX-MEX part!)
1 can tomato sauce (8 oz)
2 cups water
1 tsp salt
1/4 tsp garlic powder
dash of cayenne powder (optional and only if you like it HOT)
INSTRUCTIONS FOR SAUCE:

Heat oil in medium (2 quart) sauce pan. Open your can of sauce and pour into small bowl. Add cumin, garlic powder and salt to the sauce and stir. Set aside. Pour water into a 2-cup measuring cup and set aside. You are preparing the ingredients so that they are available BEFORE you start cooking because if you don't – you will burn the sauce. In another small bowl, add the flour and chili powder.
Pour flour and chili powder mixture into hot oil and cook for one minute as you stir. Immediately add water, stir. Immediately add sauce mixture, stir well. Continue to stir until you see no more lumps while you bring to boil. Reduce heat and simmer (stirring occasionally) for about ten minutes.
INGREDIENTS FOR ENCHILADAS:
pre-cooked meat if you desire (you can add shredded beef, chicken or pork; we don't)
10-20 corn tortillas (depends on the size of your pan and family!)
2-3 cups enchilada sauce (see above recipe for sauce)
finely chopped onion (optional)
oil for frying (corn or grapeseed)
2-2.5 cup(s) of cheese (Mexican blend or use Colby/Monterey Jack*) grated
cooking spray
paprika
*NOTE TO CHEF: The better the cheese you use, the better they will turn out. Using top quality Monterey Jack will greatly improve the flavor and reduce the amount of grease created. I find it hard to resist ANY cheese, however… so it won't ruin it if you only have cheddar! Go ahead and make them anyway!
INSTRUCTIONS FOR ENCHILADAS:
Preheat oven to 350F.
In a large frying pan, heat the oil and fry one or two corn tortillas at a time. You will have to add additional oil as the tortillas soak it up while frying. Be as sparing as you can without letting the tortillas burn. Don't let them be too soft or they will melt into mush while you bake them later. Not too hard, not too soft. Set them aside on a paper-plate lined towel as you go. Cook as many as twenty and as few as ten (depending on how large your pan is, how much cheese you have for filling and how many enchiladas your family will eat). I usually cook 10-12 (we have a family of four and usually eat AT LEAST two-three enchiladas each).
Open your grated cheese bag (or grate your cheese yourself – you GO GIRL!) and pour it into a small bowl. Make an "enchilada-making assembly line". A bowl of cheese (only use 3/4 of it inside the tortillas as you'll use the rest on top of them), a plate of tortillas, a small dish of finely chopped onion (or sautéed onion), a pan of enchilada sauce, and an enchilada-baking pan (or large foil throw-away pan – we have one we continue to use and wash!).
TORTILLA STUFFING PROCEDURE: Open one tortilla, smear a line of enchilada sauce down middle, drop a sprinkle of onion (optional) and a dash of paprika down middle, put a line of cheese down middle, ROLL and place seam-side down on baking pan. TIP: If tortillas don't cooperate, have a kid hold them down until the pan gets full and there are enough to fill it and keep rebellious tortillas from popping open! REPEAT PROCEDURE for all of your tortillas.
TORTILLA TOPPING PROCEDURE: Sprinkle dash of onion (optional) over the mid-section of all your tortillas. Pour enchilada sauce over the entire thing starting with a line down the middle. It's ok if there seems to be too much sauce. Some of it will bake out in the oven. Sauce is your friend. Top the whole thing with as much cheese as you like.
Bake for 15-20 minutes (depending on how hot your oven is) or until bubbly.
Goes great with a can of black beans or refried pinto beans and Spanish rice…. But then, is there anything that doesn't go well with Spanish rice? We always serve it with iced tea, too.
Technorati Tags: Food, Texas, Mexican, Meals, Enchiladas, Sauce, Southwest, Recipe, Delicious, Southern, Eat, meatless meals, Cook, Cooking, Tex-Mex, cheese, vegetarian