This sounds really weird. I'll admit it. A friend gave me this casserole recipe because we were broke and needed cheap ideas for meals and it took me a year or more to actually TRY it. I just couldn't imagine lentils tasting good in a burrito. Well, Kelly… I'm sorry for my lack of faith in you! It tastes great. My husband could not believe how good it was – considering it was a meatless burrito! The only thing we changed up is the amount of spices. We like a little more spice in our Mexican tasting dishes.
Ingredients
2 cups water
1.5 tbsp oil
1 cup chicken broth (if you use a whole can, subtract a little of the water)
1 tblsp soy sauce
1/2 cup uncooked brown rice
3/4 cup uncooked lentils
1/4 cup instant minced onion/or onion powder/or 1 sm. chopped and sautéed onion
1/4 tsp Mexican oregano
1/2 tsp thyme
1 tsp garlic powder (or you can used pan-fried minced garlic)
1 tsp garlic salt
2 tsp cumin
1/2 tsp cayenne pepper
3/4 cup grated cheddar cheese
taco stack fillings: lettuce, chopped onion, chopped tomato, chopped cilantro, sour cream, shredded cheese
Instructions

1. Preheat oven to 300 f degrees and gather all ingredients.
2. Blend all ingredients in a casserole dish (except cheese).
3. Bake uncovered for 2-2.5 hours or until tender and water is absorbed.
4. To serve, top hot casserole with cheese and serve OR spoon casserole into pan-fried and buttered flour tortillas and top mixture with cheese – roll like a burrito and serve with black beans on the side.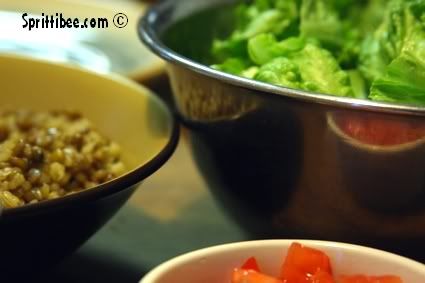 Faster Instructions for when you can't wait on the oven…
This is usually how we make this dish. I'm not the kind of cook that prepares way in advance (I'm more of the 30 minute meal type).
1. heat oil on skillet
2. pan-fry and lightly brown lentils with garlic and onion
3. add spices
4. add enough water to barely cover the lentils (or about 1 cup)
5. bring to a boil, stir, and cover to simmer for 30 minutes or until slightly tender (don't overcook or lentils will get mushy)
6. cook brown rice as instructed on package
7. blend rice and lentils together
8. add seasonings to taste (sometimes cooking the lentils washes out the seasoning – I even like to keep some seasoning on the table to add right in the tacos)
9. pan fry your tortillas and wash and chop your veggies to lay out on the table
10. let everyone create their own tacos with a choice of your fillings in separate bowls on the table (we love to get out the fancy serving dishes for this and make it pretty)
Recipe from my friend Kelly.
Technorati Tags: Food, dinner, burrito, recipes, easy meals, Mexican food, beans, lentils, rice, lunch, quick meals, cooking, cuisine, yummy, vegetarian, thrifty, cheap meals, casserole