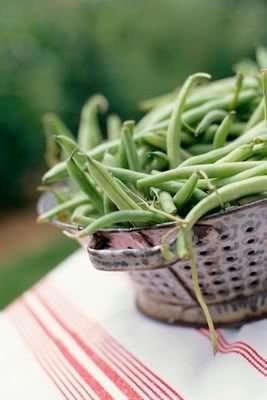 Here's another recent discovery of mine (from a regional Texas cookbook). It seems a little lady named Marion in the city of Lohn, TX really knows how to cook up some green beans! A sweet lady that I used to help with her cats gave me this cook book and it has been a treasured addition to my multitudes (most are gathering dust, to my dismay). I tend to get stuck on a few good recipes and move pretty slowly through 'uncharted waters' (new recipes). At least once a week, I like to make something entirely different and new to our taste buds.
This week's experiment was baked green beans. I'm happy to say that it is as good (or better – depending on your taste) as my fried green bean casserole.
I absolutely loved the sweet, buttery flavor… but the BACON is what MADE the dish!
We ate this delicious side dish with burger patties and baked (frozen) fries. Not exactly your 'New Years Resolution' meal… but the kids voted it their favorite meal of all time (and asked that I make it once a week). So, even if I gained a pound, at least the natives are happy!
Ingredients

frozen green beans (can used canned in a pinch, but I won't vouch for the flavor)
garlic salt
pepper
1/3 cup butter (I used a little less)
1/3 cup brown sugar (I used a little less)
about 4-5 bacon strips (I used turkey bacon)
Instructions

Lightly spray/grease a flat baking pan with at least 1.5 inch sides (to prevent dripping). Lay enough frozen green beans to cover the bottom of your pan ~ not too thick of a layer of beans, because you want them to cook through evenly and get some of the sauce on them. The larger your pan, the more beans can cover the bottom surface (you judge how many you want to make and alter the other ingredients accordingly). This recipe is for about four people to have a nice sized helping. Sprinkle your beans with a little garlic salt and pepper (however much you like). If you really love garlic, you might consider mixing some fresh mashed garlic or minced canned garlic into the sauce… but you don't have to because this has such a lovely flavor – even without added garlic! Melt your butter in a glass measuring cup and stir your brown sugar into it until well-blended. Pour mixture over your beans evenly. Layer bacon strips (turkey bacon is our choice here) over the top of the beans. Cook in the oven on about 350-75 (depending on your oven and altitude) for about 30 minutes (or until bacon is to desired crispness). We like our bacon really well done, but I had to pull the beans out a bit before my bacon got crunchy enough. Because I was using TURKEY bacon, it tasted great and I was not worried about eating soggy fat. Yuck!
I just looove these beans! Enjoy!
Technorati Tags: delicious, burger, side dish, vegetables, lunch, food, dinner, American Food, kids, yummy, recipes, cheap meal, frugal, children, cooking, green beans