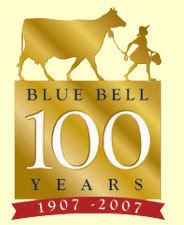 This contest sounds like a real treat… especially if you love the home-made taste of Blue Bell Ice Cream from Brenham, Texas.
[The cows think Brenham is heaven.]
If you happen to be anywhere in the Blue Bell territory (a customer of theirs – see their map for specific details), you are qualified to enter the contest and
design your own local flavor for Blue Bell.
In honor of the company's 100th anniversary, Blue Bell Creameries kicked off a "Taste of the Country" flavor contest on January 1, 2007. The deadline for entry is not until April (postmarked by April 30th), so hurry and get your thinking caps on! They are asking customers to submit names of ice-cream flavors suggestive of their own state and local dessert traditions. This is one delicious contest that you don't want to miss! There will be 17 State winners and a Grand Prize winner! The winners will get a year's supply of ICE-CREAM… and the grand prize winner will enjoy a trip to Brenham for a factory tour… AND get to see their own flavor masterpiece packaged and sold by Blue Bell for a year! [Yipee! I want to go to Texas!]
For more information, entry forms and Blue Bell contest rules click here. Happy indulging…er, sampling and creating!
Buzz Words: contest, home, life, food, family, desert, ice-cream, kids, creative, yummy, America, win, flavor, children, fun, recipe, Spring, Southern