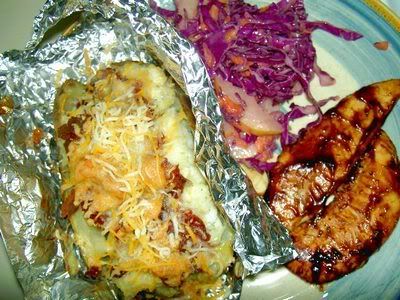 This one is from a magazine (Family Circle – April 2007, page 124). It is a springish-summerish type meal. It is a really quick and easy dinner if you are in a hurry. I love red cabbage, so I enjoyed it. You can use any type of pear. We used Asian pears. We also made twiced baked potatoes with this. I'll try and get that recipe up tomorrow if I have time. Enjoy!
Makes 4 Servings
Prep 15 minutes
REFRIGERATE 2 hours
Bake 450°F for 30 min.
Ingredients
3 tablespoons light mayo
2 tablespoons milk
2 tablespoons cider vinegar
1 teaspoon sugar
1 teaspoon salt
1/8 teaspoon celery seeds
1 tablespoon plus 1/4 cup of BBQ sauce
1 bag (8 oz) shredded red cabbage (or small head chopped – about 4 cups)
1 bag (8 oz) shredded carrot (about 3 cups – chop how you prefer)
2 large pears (1 lb.) cored and cut in thin strips
4 boneless, skinless chicken breast halves (1.25 lbs)
1/4 teaspoon black pepper
Instructions
1. Blend mayonnaise, milk, vinegar, sugar, 1/2 teaspoon of the salt, celery seeds and 1 tablespoon of BBQ sauce.
2. In a bowl, mix cabbage, carrots and pears. Top with mayo mixture. Toss and coat. Cover and refrigerate at least two hours.
3. Heat oven to 450°F. Place chicken breasts on a rack over a baking sheet. Remove 2 tablespoons of BBQ sauce into a bowl and use a basting brush to brush it generously on your chicken breasts (covering all sides). Sprinkle with remaining 1/2 teaspoon of salt and pepper. Bake at 450°F for 30 minutes or until internal temp of chicken registers 155°F on an instant read thermometer. Remove from oven and spoon reserved BBQ sauce over chicken. Serve with 1 1/2 cups slaw per person.
Technorati Tags: delicious, vegetarian, salad, side dish, lunch, food, dinner, cabbage, veggies, chicken, recipes, relish, vegetable, BBQ, cooking, healthy, quick meals