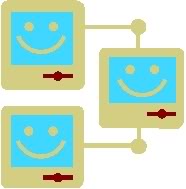 Happy blogiversary to me! Happy blogiversary to me! Happy blogiversary to Sprittibee. Happy blogiversary to me! And many more. On channel 4…
Last year on June 8th, I unveiled the new "skin" for my blog here at Blogger. Oh, and I instantly became an expert in blog design (of course) – minus the skill to do it myself. This year the 'expert' wasn't so "on the ball". There's nothing new here today other than this post and the color of my sidebar. That is about the extent of my html skills. However… I have requested the help of a talented web designer to redesign my beautiful blog here. Not that it really NEEDS redesigning. I am very partial to my design as it is… but I figure you guys are sick of the same old thing – am I right? So I'll put this lovely little Natalie Jost template on a hanger in the design closet and see what Miss Susie of Bluebird Blogs can cook up for me.
Does anyone have a suggestion or idea? Brownie points if I use it! I have already inundated poor Susie with my brain dribble and countless idea-generating blog sites, artwork, and color schemes. Problem is, I just can't make my mind up about anything. So you aren't getting a peep show today… but if I can come up with a final game plan for Susie this weekend, you might be surprised when you stop in next week. We'll see how much screen-time my eyes can handle in the next few days. I hope you'll enjoy my belated blogiversary present when Susie and I finally get it up and running.
I'm thinking of taking a few days off from blogging to help Susie iron out a design, finish my last week of homeschool, and continue praying for my husband's promotion to happen soon. In the mean time, have a browse through my past posts here at Sprittibee. I'll spare you the "best of" list and let you make your own mind up. Knock yourself out in the archives and hop over to Gathering Manna for some great recipes while I'm away. I'll see you back here soon!
Subscribe to Sprittibee by Email
Buzz Words: Blogiversary, Blog, Blogging, Hobby, Redesign, Blog Design, Design, Change, Web Designer, Template, Computer, Techie, Fun, Time Off, Vacation, Break, New Look, Blogs