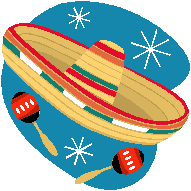 This sounds a lot harder than it is to make, so please don't let the few extra steps scare you off. Once you make it one time, you'll keep it on your monthly menu plans! It is very good! We actually bought the 4 poblano peppers and only needed less than two of them for the recipe. I went ahead and broiled all of them and froze the ones we didn't use. Now I'll be one step ahead of the game the next time I make this casserole.
This recipe originally came from Betty Crocker Casseroles and One-Dish Meals #142 and was called "Chicken Chilaquiles Casserole". However, I changed up the recipe a bit. A note that the cookbook said was that it is a great way to use up leftover corn tortillas that are not as fresh anymore. Chilaquiles is a Spanish word that refers to the straw from a ragged sombrero that is falling apart. I guess the tortilla strips resemble the straw. Chicken and straw. The mild white cheese is delicious. I have increased the amount of cheese from the original recipe. It wasn't enough for us. This recipe is also a great way to use up leftover rotisserie chicken meat!
INGREDIENTS
New Mexico Green Sauce (see sauce ingredients below)
1/2 Cup vegetable oil (you can use butter if you want)
10 corn tortillas cut into thin strips
2 cups shredded cooked chicken or turkey (cook with salt, pepper, butter, garlic)
2.5 or 3 cups shredded Chihuahua or Mozzarella cheese
SAUCE INGREDIENTS
2 tablespoons olive or grapeseed oil
1/2 onion finely chopped (1 cup)
2 large poblano chilies; roasted, peeled, seeded, finely chopped (1/2 cup)
1 serrano pepper; seeded & finely chopped (I used a half)
1 clove garlic finely chopped
1/2 cup whipping cream or half & half
1/4 teaspoon salt
INSTRUCTIONS
1. First broil your poblano peppers 5 inches from broiler heat for 5 to 7 minutes or until skin is blistered and evenly brown (you may need to watch and turn it every 2 minutes or less). Remove the peppers and place in heat-resistant Tupperware air-tight bowl with lid tightly sealed and let stand for 20 minutes before peeling.
2. Make your sauce next to let the flavors mingle longer. Heat oil over medium heat and cook your onion, roasted poblanos, serrano pepper, and garlic for about 8 minutes or until onion is tender. Stir in your whipping cream and salt. A little flour might also help to thicken the sauce quicker. Sauce will not be very thick without flour. Whisk for about 3 minutes and simmer while you cook tortillas, stirring every few minutes.
3. Fry your tortillas in oil (or butter) until they have spots of golden brown color and are not too hard. You don't want them to be so hard that you can't tear them easily with your hands. Set aside on paper-towel lined plate to cool before tearing into thin strips.
4. Fry your chicken and set aside on same paper-towel lined platter to cool before tearing into thin strips.
5. In a large casserole pan, layer 1/2 of the tortilla strips, chicken, and then poblano sauce. Cover with 1/2 of the cheese. Repeat layers. Bake in preheated (should still be hot from broiling peppers) 350 degree oven for 30 minutes or until cheese is melted and golden brown on top.
Serve with a Mexican salad, guacamole, tea, black beans, chips, or chilied corn. Makes a great addition to your favorite Mexican-food night meals.
Subscribe to Gathering Manna by Email
Technorati Tags: Tortillas, Mexican, Cooking, Main Dish, Eat, Food, Chilis, Recipes, Enchiladas, Chicken