Sprittibee has come and gone from the Dixon homestead, and we were all sad to see her, Chickie and her two great little munchkins head back home. I know you all know how the Queen Bee is with taking pictures, but I don't think you have any idea how she is about taking pictures! She pulled into our driveway, head out the window, camera firmly in hand, clicking away!
I had a hard time deciding which one of her beautiful photos to use, but I know she was particularly fond of this one of Eric and Kaden with the rooster. She tried and tried to get a good photo of those chickens pecking the grain at feeding time, but they just move too fast. It was all a blur. Eric had to wrangle this Rhode Island Red to hold him still for the photo.
The Rooster below is Mr. Bennet, by the way, named affectionately after Jane Austen's Mr. Bennet from Pride and Prejudice.
Heather was quite impressed with barn chores, and her children took to it real quick-like. After arriving around 7:30pm, we ate a wonderful dinner of chicken and noodles (no relation to Mr. Bennet), and then it was time to feed the chickens and goats. They carried feed and water down to the barn from the house and wrangled chickens to their pens – that night and the next morning! It was great! And they actually had fun. Imagine that! A favorite memory of mine was Morgan dumping a bucket of fresh grass out for the goats in the morning and saying in a sing-song-y voice, "Here you go goat-iees! Come on and eat the grass, goat-iees!" That girl is a cutie!
That all happened when we were getting ready to go to Heather's mostest-favoritest restaurant: Chipotle's. We have one in Fort Wayne, and we have never been there! gasp! So, Heather introduced us before she left!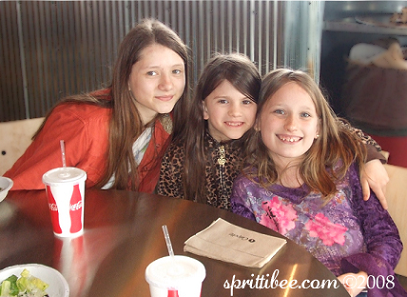 Rachel, Hannah and Morgan
We all had a blast eating hard tacos, giant burritos, wonderful guacamole, and the delicious rice from Chipotle's. [I want that recipe, too, Heather.] We did get some very cute photos of all of us before we left and some from being up 'til four in the morning the night before, but I will let Heather post those… after all, it's her vacation, right? We just got to tag along for the ride! Thanks Heather! Looking forward to your return here to bloggy-world, my dear friend!!
And, we'll see you in the Lone Star state very soon!
Subscribe to Sprittibee by Email
Buzz Words: roadtrip, vacation, parenting, life, travel, photography, random, personal, roadtrip