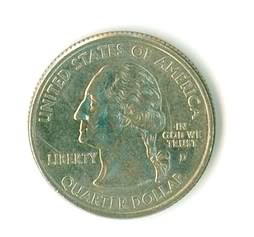 My husband has a keen sense of wit. He also knows me really well after nearly 17 years (16 of which – coming up this January – we've been married). He's a good dad, so he tries to give the kids fatherly advice when he can help them out. Yesterday was no exception.
We had just come home from lunch after church (Chipotle, mmmmm). I had been walking around in those high-zippered boots with my sausage pregnancy legs and was super tired. I sat down at my computer to zone out and goof off until dinner time. Suddenly I was thirsty. But going downstairs seemed like traveling to the Amazon to hunt for extinct rain-forest animals.
I blurted out in my moment of sheer lazy exhaustion, "First kid to bring me a glass of ice cold water gets 25 cents!" Yeah. I'm a big spender. Unfortunately my kids have learned the value of money at nearly 10 and 12. Seems like household chores keep getting more expensive for me.
Kaden was playing pc games already and Morgan was watching Daddy on the X-Box. Not a sound could be heard besides the peeling out of race-car wheels and techno music. Morgan didn't even turn around when she said, "Won't work on me" matter-of-factly. Kaden said nothing from his room (which was within earshot); having perfected the art of ignoring me.
Daddy chuckled as I sat there looking at them – a helpless, thirsty, pregnant lady in distress.
"You better get up and get her some water. Take the money while you can. You are fixing to do it for free." He warned Morgan.
Morgan thought about it and said, "Yeah, you're right." She reluctantly got up to go fetch me a glass downstairs.
It pays to listen to good advice.
… speaking of good advice… be sure to hop over to the Homeschool Post and share a link with pictures of your Christmas decor. We might even be doing a give-away over there soon if I can get a graphic made. First things, first, though – bills, checkbook and finalizing the HSBA prizes! See you over at the Post later!
Subscribe to Sprittibee by Email
Buzz Words: funny, money, kids, humor, personal, life, blogging, family, children, motherhood, lazy, dads, allowance