I promised to do some foodie reviews and have kind of dropped the ball… and I've been meaning to tell you about my new favorite breakfast cereal, too. I'm thrilled to have THREE great items to share with you: a snack, a drink, and a cereal (aren't those the three basic food groups?).
Anyway, here are the great things our family has discovered in the past few months (and have subsequently added to our master grocery list):
Home Free Organic Cookies


These little goodies are food allergy approved! They contain no nuts, no eggs, and no dairy (and are made at a dedicated bakery). I promise, they DON'T taste like the box! Organic sweets are wonderful to have around the house when the munchies take over. Home Free did a great job on these, considering all they left OUT.
I feel good feeding these oatmeal cookies to the munchkin – since he's on a baby food strike and we are having trouble getting him to eat anything at all right now that doesn't resemble a cookie or a chip. Good thing I'm still nursing him, or he would probably starve himself to death.
Hop over to homefreetreats.com and find out more about their standards on their FAQs page if you are feeding a sensitive tummy. Or you can click on their Store Locator page to find out the nearest place where you can purchase these yummy snacks.
These cookies are great for people with food allergies, but they DO contain gluten. Are you confused about food allergies and celiac disease (gluten sensitivity)? You aren't alone. Check out this informative Celiac vs. Food Allergy article that Home Free sent to me with their free cookie sample.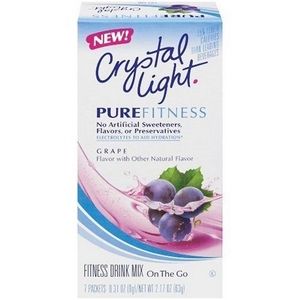 Crystal Light Pure Fitness Sport Drink
I almost said no to Crystal Light before they ever sent the samples – because I figured they had artificial sweeteners. I was VERY impressed that they have opted to go 'healthy' by eliminating the fake stuff and adding evaporated can juice and Truvia (an all-natural, calorie free sweetener derived from the stevia plant). Another cool thing about the samples that they sent was that they are individual sized servings (a tiny packet you can dump in to your cold bottled water – or add to your water glass at a restaurant). If you want to drink more water but you really aren't a big water-fan, this stuff is for you! It also is handy if you eat out – because ordering water at a restaurant can save you oodles of money. Now everyone can have a flavored drink without paying an extra 8$ or more on the tab (my kids love this angle).
If you enjoy Crystal Light, follow them on twitter: @CrystalLight. Tell them Sprittibee sent you. Maybe that will make up for how long it took to review their drinks!
Dark Chocolate Almond Granola
Cascadian Farms have outdone themselves this time. This stuff is 13.25 ounces of pure breakfast bliss. I didn't get a free sample of it – but I do have a serious addiction. I figured if I told more people about this chocolate-lover's secret, maybe more of my favorite grocery stores would carry it. So far I haven't seen it at Walmart (for shame). According to their website, you could snack on it without milk (why didn't I think of that?) and use it as a topping for ice-cream (OH. MY.)… but please – do yourself a favor and BUY SOME. Who cares that it is completely natural and organic. It's all about the flavor, baby.
There you have it. Three new finds to treat yourself on. Off to the store you go!
Disclosure: As stated in this post, the cookies and drink were provided for my honest opinion, free of charge. The granola was purchased by me (but you still got my honest opinion).