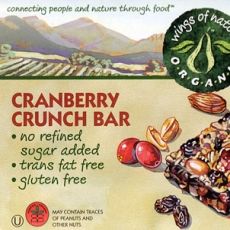 What's…
1. Gluten Free
2. Certified Organic
3. Low in Sodium
4. A Source of Fiber
5. Vegetarian and Vegan (Dairy Free)
6. Cholesterol Free
7. Not made with Genetically Modified Ingredients (NO GMO)
8. Transfat Free
9. A Low Glycemic Carb
10. Preservative and Additive Free
11. Certified Kosher
…and most importantly,
12. Not only edible, but DELICOUS???
Wings of Nature snack bars, that's what!
I've been eating Kashi granola bars (which are very healthy, and my husband loves them…) and haven't been sure if I should go ahead and eat the box, too. They are dry and my kids call them "cardboard".
I went through a phase when I was pregnant with Baby K when I also bought boxes of the Belly Bars (they taste more like chocolate cookies and rice crispy bars, but they are pretty expensive). I do love Belly Bars… but was looking for something more 'every day' and less chocolate coated. Not that I have anything against chocolate, of course… I'm just trying to not eat AS MUCH of it.
I was delighted to be given a few of these new bars by Wings of Nature to try out. I'm always looking for a tasty snack that will keep me out of the cookies. I have a REAL problem with chocolate chip cookies, y'all – it's serious.
I'll have you know that I ate the first one (the Almond Raisin bar) and was thrilled with how soft and yummy it was (the ingredients were wonderful, but the taste sealed the deal). The very next day I ate two of them in one sitting during snack time because the Espresso Coffee Bar and the Cranberry Crunch Bar were even better than the first one I tried. [Don't judge me – it was a better choice than eating half a bag of Milano Double Cholocate Cookies, right?]
I'm working on mending some broken resolutions to eat healthier and much more organic, and am planning to add Wings of Nature to my "must have snack list".
Check out the Wings of Nature website to find out where you can purchase them near you. I'm going to get mine at Walgreens.
Disclosure: These yummy snacks were provided to me to review. The opinion is all my own and I was not compensated monetarily for it.