Yesterday was the big announcement – about Quaver's Wonderful World of Music. I like being fashionably late, so my post is going up today.
Actually, I don't really like being fashionably late. I just seem to be late at everything lately. I'm glad I have an excuse (but am hopeful that the excuse will decide to make his debut today).
My homeschooling friends Meghan, Sue, Dawn, Jenn, Cathy – who isn't pictured because she's not a blogger yet… (and blog friend Sami – who isn't homeschooling yet) are all on the Quaver Homeschool Advisory Counsil. They were my partners in crime during the big 'Secret Weekend' get-away, remember? The one in which I, 'Cinderella-Homeschool-Mom' was whisked away to Nashville, treated like a queen, and given an iPad? I'm pretty sure that they all got their Quaver posts up yesterday. So don't just listen to my jabber over here – be sure to visit their sites and see more photos and get more of the scoop!
Being the lazy pregnant blogger that I am right now, I was tempted to just link you over to Dawn's place and say, "What She Said"…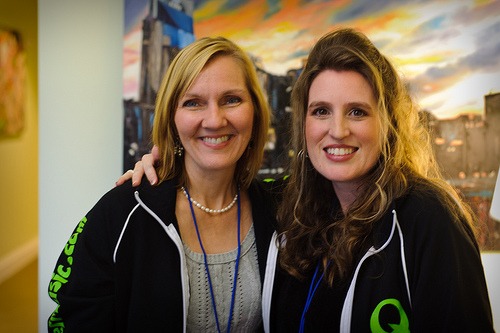 (I know she wouldn't have minded since she's my buddy and she's busy at Blissdom where they are giving away a copy of the Quaver program this weekend – she wouldn't have noticed anyway)
…however, after spending the last few weeks working on homeschool extra-curricular lesson plans to go along with a few of the Quaver episodes, I didn't think that would be fair to Quaver and his team. I want you to hear from me – first hand – about this amazing musical curriculum… because it really IS 'Marvelous'!
And watch out for that theme song. You'll try, but you won't be able to get it out of your head!
You've got to see it to believe how good it is… so watch this quick flick for a taste of the magic:
It's better than HGTV. I could sit and watch it all day.
So what is all this about a Quaver? Well, a quaver is an eighth note. No, really.
THE 'Quaver', however, is an energetic, transplanted Brittish guy named Graham Hepburn – who's passion is teaching kids about music. He's the star of the program – the crazy guy who actually teaches the kids on the videos. [I could listen to him talk all day, but that's completely unrelated to this post. Ask my about that Irish guy I nearly married before I ever met him because of his accent some time.]
Boy, I'm so glad Graham got hooked up with the right team of people that made this project (which has been in the work for many years) possible. It's the best music program I have seen on the market yet. Quaver's Marvelous World of Music is going to ROCK music education in a big way!
Not only is the program a full music curriculum, but it offers a website for kids to CREATE their own music and reinforce what they have learned through cool games (from what I've heard, you might even be able to hook up an electronic keyboard and have the program write your music for you if you compose your own songs!). The program is built for classrooms, but they also are putting together a 'HOMESCHOOL' edition that has extra lesson plan ideas for you to tailor it to smaller groups or just your own set of kids!
Pre-orders for the homeschool version begin on February 1st!
Not long after that, I'll be giving away a FULL set of this musical goodness very soon, so keep popping back in to check on my sporadic posts (and keep praying that I can find a quick groove after little CK baby dude decides to make his appearance).
In the mean time, the QuaverMusic.com site is being quickly completed for your viewing pleasure … and to get more first hand info on this masterpiece of a music program. You can stop in over there, but they informed us that it isn't at top speed just yet.
You CAN keep track of Quaver at these other links, too:
I'm beside myself with joy for my friends at Quaver's Marvelous World of Music – what a dream come true this program is! I just know it will be a huge success… and better yet, that there will be a multitude of kids who are blessed by it.
Music is the universal language of mankind. ~Henry Wadsworth Longfellow