There are these little things called children that disrupt your sleep patterns in adulthood. They disrupt quite a bit, actually… But for the purposes of this post, let's stick to sleeping. After all, if I'm typing this out at 4:42 AM in the dark of my bedroom, unable to experience sleep first hand… At least I could wax poetic about it.
Often I get asked why I co-sleep by well meaning homeschool friends who are younger and have fewer children. (My husband says that people who have less than three children are merely babysitters.) I had my first set in my 20s and followed most of the parenting rules, too, back then; so I can understand where they are coming from.
This last set of kids… well, they are my last set (four is how many times I ever want a reason for an epidural)… And since I have teenagers in the house at the SAME TIME as little ones, I know how short the time passes from snuggly toddler to terrible tude. It is next to impossible to imagine a child that towers over you and drives your car to the mall when you are 20. I may not be handing my keys over yet, but I'm close enough to have the conversation with my auto insurance agent. Don't get me started on the importance of cherishing the moments you have with your babies. I'm supposed to be talking about sleep.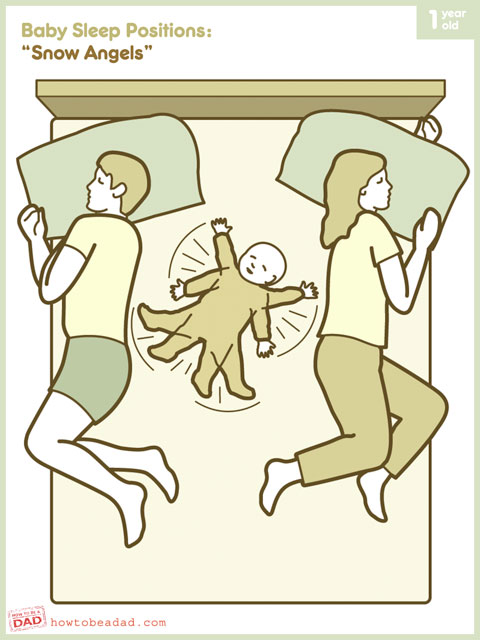 I snagged a funny picture on Pinterest (Pinterest is another sleep bandit) of a baby making "sleep angels" between his parents as they both hugged the edge of the mattress. That's kind of what it looks like in my life right now… Only make it a king sized bed and add a stray 2 year old that likes to snooze on your arm or spread out sideways with his feet in your back after he wiggles enough to be 'out'. Usually he's on my husbands side of the bed. If Kevin gets really put out with the foot jabbing, though, he might take his pillow and stumble in the dark through the game room back to the bed in our nursery – where the toddler should be sleeping. We put him to bed each night in his queen mattress on the floor of his room hoping that "this will be the night" he sleeps in there until morning… but that morning hasn't come very many times.
Sure, we might feel more rested if we let the baby cry it out and weaned him from night nursing. We'd probably get more shuteye if we worked on keeping the two year old in his bed, too. However, I would argue with you that: there are more important things than sleep… things that don't stay little very long.
In the grand scheme of life, I'll look back fondly on my nights of "sleep angel" dodging, snuggling against warm little love bugs and listening to their breathing, nursing in the dark and sweet bedtime chatter (last night my 2 year old told me through a sleepy smile as he pressed himself up against my back that I was his favorite mommy). I won't remember the fog or ache of sleep lost. I'll remember the closeness of my babies, the love I shared with them in their fleeting childhood, the presence that I provided for them that only a mama can.
One day in the not so distant future I'll be losing sleep because the house is empty of little warm bodies as they all go out to make their way in this world. Right now I just want to hold them close.