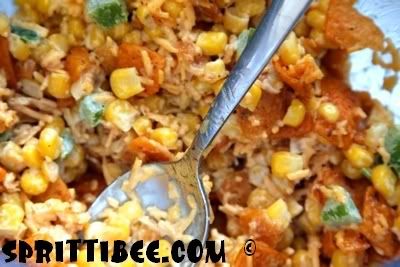 Corn Salad is such a nondescript name. It just doesn't do this addictive dish justice. It should be called something like 'creamy-crunchy-cheesarific-corny-salad'. Or just "DA BOMB".
I could sit down with a bowl of this stuff and not come up for air until it was gone.
Every kernel, baby. Gone.
There are friends of mine (and family members) that have been begging me for this recipe. And it all started with Nana, so I have to give her credit where it is due. She brought it over to our house one day and it has all been history since then. I make it for potlucks, family dinners, as a side-salad for taco night, and just to snack on. It truly is a wonderful and healthy (mostly) dish!
INGREDIENTS
(you can half the ingredients if you use a smaller bag of corn)
1 large bag of frozen corn – thawed
1 bag of Chili Frito corn chips
Mayo or Miracle Whip to taste (about 2-4 tablespoons)
1/2 red and 1/2 green bell pepper (or one of either that you prefer) – chopped
1/2 large red onion (some call them purple) – chopped
1/2 of a 1 lb. bag of sharp cheddar grated cheese
season with salt and pepper
INSTRUCTIONS
Mix all ingredients (except corn chips) together and chill. Start with a large tablespoon of mayo and taste as you go. I probably use two large heaping spoonfuls – depending on the amount of corn and veggies. The aim is to coat, not drown it!
Add corn chips to individual servings, crunched up and mixed in. The chili cheese flavor of the chips adds the zap and crunch the dish needs to be addictive… but they will WILT and get soggy if you put them in prior to eating. Keep the bag handy so you can add chips to your leftovers, too. If there are any, that is!
It doesn't sound magic, does it? But it is.
You won't be able to put the spoon down after tasting it the first time. Go ahead. Make it – I dare you to resist.
– – – – – – – –
I used to have this really cute little food blog that I neglected, called "Gathering Manna". Now that I have moved to WordPress, all my recipes have moved over with me! No more neglect… just a seamless mish-mash of all the interesting aspects that make up our life (and food is center stage – at least three times a day).

I hope you'll enjoy having the tasty recipes we love mixed in with the homeschooling and other random adventures we share here.
In my heart, I'm a food blogger, but my life is too busy for all the prop styling and lighting it would require. Between you and me, it is much "funner" to eat the results of a recipe than spend thirty minutes photographing it.
{Bon Appétit!}

Subscribe to Sprittibee by Email