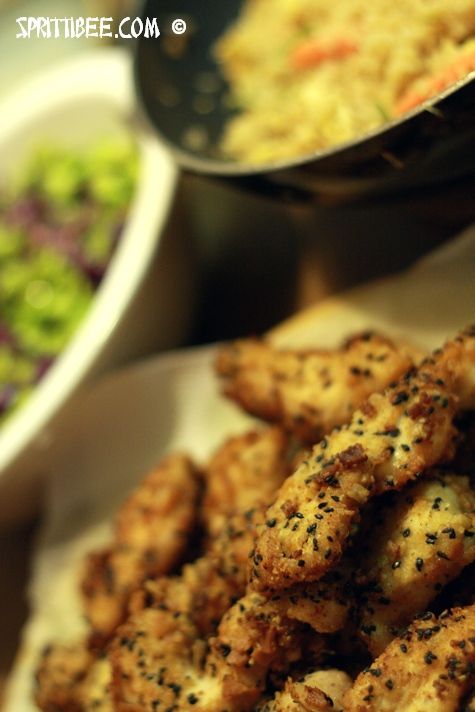 Chicken is a staple meat in our home. We eat Beef and Fish less than chicken. Lately we eat deer also, which proved to be a leaner and much more cost effective meat than beef… and the way I cook it, you can hardly tell it isn't beef!
Besides Mexican, Greek, and American foods, we eat a lot of Asian cuisine. This Sesame Chicken Finger recipe is a perfect accompaniment to fried rice. I discovered this quick, easy kid-pleasing recipe in a cook book, and we've enjoyed since my big kids were little. I hope you enjoy it as well.
The first phase of the 17 Day Diet includes a lot of fish and chicken. While this recipe breaks the rules by adding breading, the amount of carbs is miniscule. Be sure to drain them really well, though – to remove as much oil/grease from the fried chicken tenders as you can.
You can use wheat crumbs to make the breading whole grain for phase 2 of the 17 Day Diet (or just a healthier alternative if you aren't counting calories).
This is my 16 year old son's FAVORITE meal (this and fried rice). I often make 2 pans of it when we have company over and add extra veggies to the rice to make a full meal out of it. Everyone always loves it.
Sesame Chicken Fingers

INGREDIENTS:
4 skinless boneless chicken breasts or 1 lb. of tenders, sliced in finger-sized bites
8 slices stale bread, grated – or Panko – or pre-packaged dried bread crumbs
1/4 CUP sesame seeds
1.5 tsp salt
8 grounds fresh pepper
Optional: dash of Thai chili flakes or hot Hungarian paprika
Oil for frying (we mix coconut oil with either olive or peanut)
DIRECTIONS:
Lay the bread out and let it get stale (8 hours or overnight), grind it up in a food processor with on/off pulses (or use pre-made crumbs!). Pour crumbs into Ziploc bag. Add seeds, salt, and pepper. Toss/shake baggie to evenly distribute mixture. Drop cleaned, trimmed, sliced chicken strips in bag 3-4 at a time, sealing top and shaking bag to evenly coat them. Set coated strips on plate and repeat until all strips are coated.In medium frying pan, heat 1/4 inch of oil and lay chicken fingers in a single layer in hot oil making sure they are not touching. Fry until golden brown using tongs or fork to turn. Drain on paper towel lined plate.
Serves 4 (make more if you have lots of hungry kids! They will gobble these up!)

{ Mmmmm! }
In Him,
Heather
Credits: Recipe adapted from "Cook Something" by Mitchell Davis, Photo by me