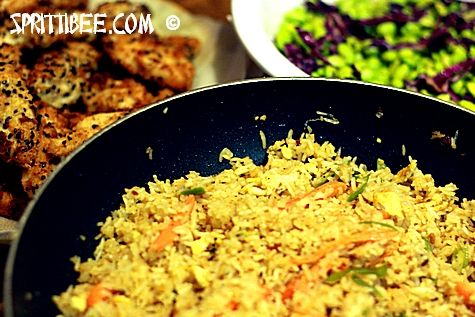 When it comes to fried food in our house, the number one requested item besides Spanish rice is Asian fried rice. My teen son has this on his list of "birthday meal" requests, and it makes a super meal for when you want to wow your company. You can make this with brown or white rice. We like the longer grained rice (basmati especially). The key to fried rice is to use cooled rice (it's even better to use cold rice pre-cooked from the day before and is a great way to use up leftover white rice). Using rice that is warm and just cooked will give you a smooshed, soggy feel.
It sounds like a lot of work, but don't let it scare you off. After you make it a few times, you won't even need the recipe any more. I never look at the recipe when I cook it – unless I can't think of what I forgot and know something is missing. We adapt our recipes as we continue to make them, but this is pretty close to the real deal…
Adaptable and Delicious Asian Fried Rice
Author:
Prep time:
Cook time:
Total time:
Making your fried rice at home gives you the peace of mind, knowing exactly what is in it – MSG free, freshest ingredients, best flavor!
Ingredients
2-3 tbsp of peanut, vegetable, or coconut oil
2 eggs
small onion, chopped
3 cloves garlic or 2 tsp garlic powder
1/2 tsp ginger (paste or grated)
1 cup pre-cooked, cold basmati rice
1 tsp. grated palm sugar
dash pepper
1/4-1/3 cup soy sauce (or to taste)
1/3 cup chopped broccoli
1/3 cup chopped carrot
1/4 cup chopped mushrooms
1/4 cup chopped baby corns or water chestnuts (optional)
1/3 cup snow peas
dash oyster sauce (optional)
fresh green onions or chives as garnish (optional)
dash fish sauce (optional)
dash kimchi as garnish (optional)
1/4 cup fresh sliced tomato (optional, for Thai-themed meals)
1/2 tsp Thai hot pepper sauce (optional, for Thai-themed meals)
Instructions
Cook rice and put in fridge/freezer to cool (can use leftover white or brown rice, too)
Heat your oil over medium high in wok or large skillet
Slowly pour eggs, very slightly scrambled on to hot oil and slide your skillet across the pan to drag them out in thin lines. Cook until done.
Add veggies (minus tomato and green onion/chives) to skillet, add a little more oil, and stir well to coat. Cook for about 5-7 minutes or until veggies are somewhat tender.
Add salt, ginger, palm sugar, pepper.
Add your rice and use a potato masher to break it apart into individual granules so it can be stirred. Add oil if needed, but don't put too much or it will taste greasy.
Add your soy sauce, oyster sauce, and/or fish sauce and stir to coat rice well.
Taste rice, add more of whatever you think is "missing" from the taste test.
Before you serve, add fresh tomato and chives/green onions and garnish the plate with kimchi if you want. I would keep the Thai hot pepper sauce on the table and let everyone self-serve to their taste.
BUT REMEMBER…. THE *SECRET* TO GREAT FRIED RICE: COOK RICE AHEAD OF TIME AND REFRIGERATE UNTIL COLD BEFORE PUTTING INTO FRYING PAN!!! This tip also came from a Vietnamese co-worker of my husband's.
Pretty soon, you'll have your own favorite recipe from this recipe base just like we did!
We had this dish again last night and it reminded me to update this recipe with our latest changes (I originally posted this back in 2005).
{ Hope you enjoy! }