I'm a little behind on sharing about my photography business and the weddings and portraits I've been taking in-between the rest of life's urgent business. I love every diversion I can get to grab my camera and go create beautiful memories for someone. This particular wedding is close to my heart not only because it was shot in the beautiful Texas heartland, but Emily is the oldest daughter of a friend of mine who I've made through taking photos for the Texas Homeschool Coalition for six years.
I loved how NOT pretentious the wedding was. How everything was real, purposeful, thought out, and practical. I love how it spoke to my Texas roots and heritage. I love how they had the wedding on their family property, with the cows across the fence staring at the procession.
My friend Charity told me she fell in love with her property she lives at one day when she saw the big tree in the front yard. I don't blame her. It was gorgeous. She even found a way to incorporate the tree in to the ceremony! They wrapped it with lights and hung family photos on it of all their family members on their own wedding days with frames. They had a wooden sign added to it saying "Family Tree". So cute.
Emily was an easy person to work with. She had been dating her sweetheart for quite some time and you could see how much they loved each other with every glance. She was too cute watching the boys arrive in Brandt's white pick-up truck.
Emily had trucks as an integral part of the entire day, in fact. She rode down to the field where the wedding was to take place with her daddy in his red pick-up truck, also. I caught a glimpse of them having a teary-eyed father/daughter kiss right before they pulled out of the driveway. It was one of my favorites in her set, even with the bug guts on the windshield.
She has the sweetest smile.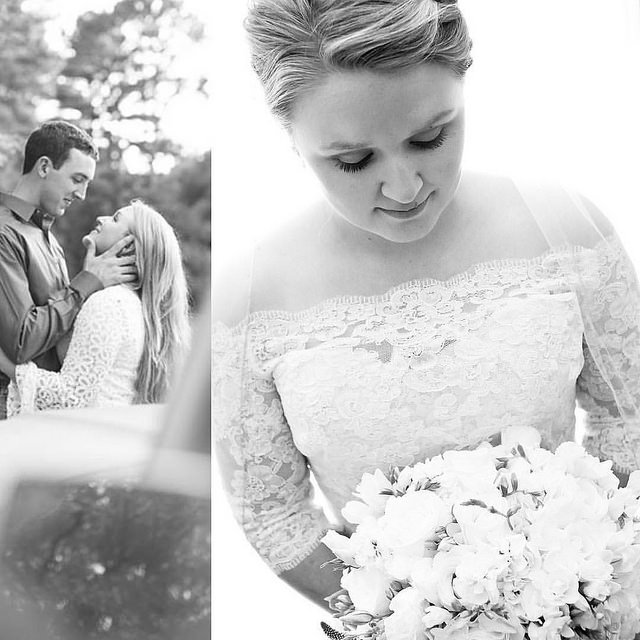 Emily's dress was a little harder than most to capture without her wearing it. I'm not sure we even tried to take a shot with it on a hanger, because it wouldn't have looked right. She had dainty lace sleeves which made it a modest choice for a wedding gown. It looked fabulous on her. In the image below, her engagement photographer took some cute pictures of her with her hair down and I have contrasted beside it with her wedding up-do. I think she looks fabulous either way!
Another neat thing about the property on which the wedding was held was the story they told me after they saw where I placed the wedding rings to get my ring shot. I always take a ring shot at every wedding, and I loved how 'Texasy' the stars on the bricks were on the pathway leading to their front door. Later, after taking this shot, I found out that the bricks were all that was left of the original house that was blown away by a tornado many years ago. The tree, and these little red bricks with stars.
Her boutonnières were simple and elegant. Twine and baby's breath. It fit in perfectly with her rustic country motif.
Her guests sat on hay bails fashioned into pews, and the front few rows were covered with a slew of family quilts for the ladies. They built a pretty wedding arbor for the altar. They also had a steel framed entry for the walk down the aisle complete with rusted doors.
The signs they painted were really cute, too. I wasn't sure if it was chalk paint or just white paint, but they had signs everywhere on the property, and many of them were one-of-a-kind (not even something I had seen on Pinterest before). I told Emily's mama they needed to go in to the wedding planning business, but I'm not sure after that much activity, she was willing to even entertain the idea!
Even Emily's wedding ring box was unique. She had a tiny wooden box with burlap put together for her rings and her garter belts were lovely and looked like vintage family heirlooms. Her bouquet (pictured above) was wrapped with the sleeve of either her grandma's or mom's wedding gown – which I thought was very creative! I think her bouquet has been my favorite to capture so far.
Her bridesmaids were a fun bunch, too. I had accompanied them a few months back on an Austin dress hunt and they had purchased these lovely peach colored vintage lace dresses at Altar'd State. I also introduced them to Tacodeli tacos, so I'm sure they'll be back.
I caught them right before they looked at the bride in her full get-up, and right after.
I think they were impressed.
The groomsmen cleaned up nice, too.
The ceremony was lovely. The weather was perfect. I had strict orders not to be obnoxious from the preacher. I did my best.
There are some moments worth being a little disobedient for, though.
Moments like daddy tears and prayers for happily-ever-after. I know God doesn't mind a few shutter clicks in a prayer if your heart is in the right place.
I feel really privileged to be able to witness so many precious one-of-a-lifetime moments between people. We prepared Emily's dad see his baby girl all dressed up in her wedding gown by strategically placing him on the porch while we cleared the area to open the double doors.
The moment was priceless. But everyone cried. Even me.
Good thing for mom and sister. They re-touched the make-up and stopped the tears with a fan. I'm pretty sure I had to do a little touch-up myself. This happens to me at weddings. I always think I'm going to be strong this time and not cry – and it never works.
Meanwhile, back in the groom hide-out down in the barn… POKER and peanuts. I kid you not. We had to go down and tell them to start getting dressed.
"Who me? I'm just here for the hay." Emily works with horses, so it was only fitting that her wedding be sandwiched in a sloping, green pasture surrounded by horses on one side, a grove of trees for the sun to set over, and cows on the other. If it weren't for me chasing the light because they decided to offer everyone communion prior to the kiss, I would have been much more relaxed in my cowgirl boots out there.
Emily wasn't in cowgirl boots. She had on some modest slippers with pretty rhinestones. I thought they fit her perfectly. A rustic Cinderella story… one where the bride and groom stopped to pray before the ceremony together…
That beats a first look in my book any day. My favorite part was her saying "I wish I could kiss you", through tears.
I also loved her flower girl and little ring bearers. The wagon was a nice touch, too.
My other favorite part of the day was her choice of pie instead of cake. I'm not sure I've ever seen so many different home-made flavors of pie in one place!!! I had at least three pieces and they were all delicious. I want her to get married again… I'm just sayin'.
But if she doesn't, there's always hope that her younger sister might decide on pie, right?!! I'm counting on it.
It was a day full of love and good wholesome central Texas celebration. It was the perfect country day for a wedding and they were ARE a perfect couple.
Don't you just love a happy ending to a childhood and a happy beginning to a life together with your soul mate? These two homeschool sweethearts were just a dream to capture. I hope they are still living in a state of wedded bliss and that they will grow together for the rest of their lives – and not apart.
From here to there and everywhere in this big Lone Star State… happy trails to you, Emily and Brandt!