You probably are wondering what happened to the kitchen challenge. You know, the one that I was supposed to put up last Monday. Just like I'm wondering what happened to the linky that disappeared from the original post. Hmmmm. I can't speak for Mr. Linky, but I can tell you what my part in this dismal plot was: falling off the thrifty bandwagon.
It wasn't a little skid, folks. It was a leap. All that talk about saving money and not eating fast food? I plugged my ears and sang nanny-nanny-boo-boo. I had Jack in the Box, Red Robin, and Chick-Fil-A. I even had Mediterranean food, pizza and burgers from a place near my house that my mom brought over. I spent 150$ at Costco on the finest fruit you've ever tasted (granted that a large sum went to pay for the Reverse Osmosis water filter for the kitchen that now graces our sink). But, oh, those greasy burgers and cokes! Oh, that Mango! It was heavenly – nearly 8$ gone in less than 24 hours.
Then, last night, I actually refused to cook and pulled a frozen casserole out of the freezer. Used it right up! How thrifty was that? Wasting my stockpiles that I've been so carefully trying to store up. Well… at least I didn't go out to eat again. Heaven knows we can't afford it.
The only things I can really give myself credit for on the Kitchen Challenge last week:
1. Eating stale Christmas popcorn instead of chips with our sandwiches
2. Cereal for dinner one night the week before last
3. Making a chart for the refrigerator to track our meals at home/money spent on groceries
The first two aren't something I would recommend. Unless you really like cereal, of course. However, the third item on the list – the Kitchen Challenge Refrigerator Chart – has been a real eye-opener. Even if it socked me in the eye this week because of all the money we lost not being thrifty. It's great for all of us (even the kids) to SEE where our food-money is going and watch ourselves stretch the budget when we place each star on the chart for a meal eaten at home.
It's simple, really. All you need is a blank calendar and a pen. We mark a star for every meal we eat at home and we put a dollar sign and amount for every food-related purchase we spend. The object is to have three stars a day. Snacks don't count. We put an 'S' on the days that we do school, too – just for fun. I'm still thinking of what kind of rewards I'll give to us if we actually get a week with almost all stars – all the way across.
Like maybe a cruise to the Bahamas. Or a flat screen TV. Or not. Maybe something more in line with the budget would be: Ice Cream after church… or dinner at a favorite restaurant.
I don't think my failure to be thrifty this week deserves a linky, but if you have some encouragement or tips from your week as a frugal homemaker, please do drop them in to my comment box to cheer me up.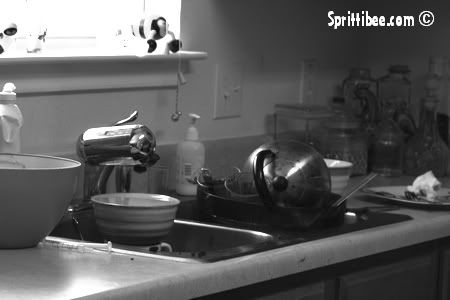 On another relevant note, frugality also requires you to do a lot more dishes. Another area that I seem to be needing help this week!
So how is your Thrifty Kitchen Challenge coming along?