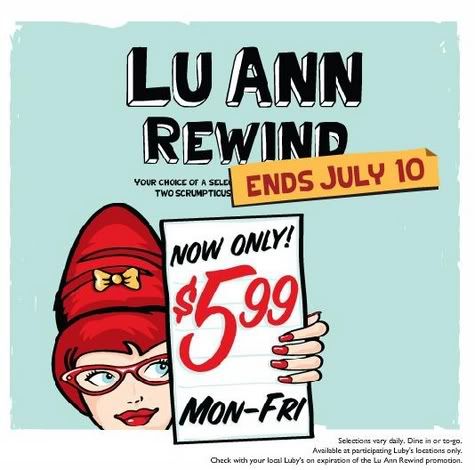 I don't know about you, but I love Luby's. Yeah, I've heard people say it's denture-food because lots of old people like to eat at cafeterias. Poo-poo on that, though. And lots of old people just can't be wrong. They are smarter than us by quite a few years!
What I love about Luby's is that it allows my whole family to get whatever they are in the mood for – no fighting or fussing! And the sweet tea. Good heavens, the sweet tea is divine!
Another great thing about Luby's is their motto: "Tastes like Texas. Feels like home." Anything that Tastes like TEXAS just can't be bad.
I can remember eating at Luby's when I was knee-high to a grasshopper and ordering a tiny plate with red jello. My kids have all had that plate (at least most of them – we have a grasshopper that hasn't started out on table food yet – but I'm sure he'll love Luby's, too).
What do I order when I go? It depends. I love the fried fish, the chopped steak, the turkey and dressing, the enchiladas, the blackened fish, and the chicken picata. As for sides, I change those up almost every time I go.
If you haven't been to Luby's in a while, take advantage of their Luann rewind and catch a full meal for 5.99 until July 10th. For July 4th they are offering free kids meals, too. It would be a great time to have a just-like-home cooked meal that you don't have to cook yourself.

That's the other great thing about Luby's… they do the dishes!
* I was not paid or rewarded in any way to write this post!!! I just lurve, em!