Sometimes a mom has to take a quiet break in the middle of the busy. Nursing moms know this. We stop every few hours to look and feel and hold and nourish someone tiny. That's where I've been over the past few quiet days in this blog — a long, extended nursing break — a holiday weekend filled with kids and suitcases — and books made of paper… hiding away from my email and deadlines… trying to nourish my tiny tot, my two year old, my teens, and my teetering sanity.
It was nice. I'll have to admit. I'm not sure I want to come back.
I miss those summer days as a kid when there was swimming, snacks and too much TV every day — no place to be, nothing to do. I miss being BORED.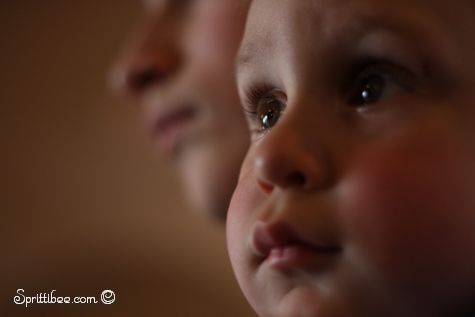 I sat down to write out some of the main events of June and couldn't believe all that has happened in such a short time frame. My six year blogiversary came and went without a second thought — my 12 year old daughter moved out of the nursery with her brothers in to her own room downstairs — I left my homeschool co-op to go it alone this year, or to join one closer to home (scary) — the 5 month old suddenly got his grabbing-hands and began rolling over on his tummy from his back — my 14 year old got glasses — we've had a garage sale, painted the living and dining rooms, been to a homeschool convention — three sleepovers for my daughter — two blogger PR events… and there are book cases awaiting 2 coats of stain and polyurethane in my garage.
Sometimes I wish there were a remote for real life… one that would S L O W things down. Give me time to savor the giggles, the sweet smiles, the long little-boy lashes… like the moment last week when the Viking crawled in to my bed when he first woke up and laid his head on my shoulder and said, matter-of-factly:
"Mommy, less be friends."
I wish I didn't think about the future so much – so I could live in today. You know, the days ahead when the teens will be driving and taking college classes and busy with their own lives — the gradual letting go and going, going, gone? I see some of those lonely days flickering in my twelve year old's eyes as she finds her wings and tests the edges of my feathered nest.
One day you'll be soaring, sweet nightingale… but not YET.
Oh, won't you stay a while. Right here. In this moment.


My prayer is to allow me to continue my pursuit of being present. Here is where the joy is. Here is where the world slows — the connections are made — and there are hugs to be had. Won't you join me in claiming today?